NEW SCRIPTS AND NEW SALE AT QUEENBRAT DESIGNS....Join me at my 'Basket of Savings Sale' through Easter Sunday and save 35% off your purchases including these two new scripts that were just added to my stores!



EASTER BUNNY GIRL AND BOY SCRIPTS Use these interactive PSP Scripts to make an adorable Easter Bunnies for your projects.
Script pauses to allow you to select all colors using papers, gradients or colors.
Bunny body and wicker basket re-colors using Manual Color Correction.
Final product sizes are 2081x3600px.
Each are 300dpi.
No outside plug-ins are needed.
Commercial use is allowed.
Tested in PSP9 and up.






My personal store!












My Scrapping Blog



My Signature Tag Tutorial Blog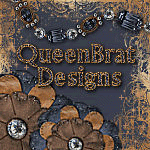 My Website



Use the code: STMMMS64124



There was but one perfect man.....I'm just FORGIVEN!